Sun 19 Apr 2015
(Questo articolo è uscito su Repubblica edizione Firenze domenica 19 aprile 2015. Ringrazio il Centro di documentazione Marco Vettori che sabato mattina mi ha messo un pc a disposizione per scriverlo al volo. Nella foto sono ritratti Osvaldo Soriano e il mio amico Osvaldo Bayer.).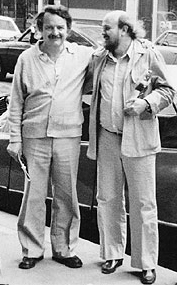 Eduardo Galeano si starà rivoltando nella tomba. Osvaldo Soriano, che da qualche parte nel paradiso dei gatti e degli esuli sta palleggiando con una palla fatta di nuvole, riderà del surrealismo involontario degli italiani. In un comune toscano sarà presto affisso un cartello paradossale: "Divieto di calcio ai maggiori di anni undici".
Sì, Osvaldo, hai sentito bene.
Un tempo c'erano le panchine, i ragazzini che inseguivano un pallone, i vecchi che caricavano una briscola, gli altri che guardavano i lavori di un cantiere improvvisato; le donne che facevano i ferri mentre prendevano il fresco sull'uscio di casa. Si abitavano i gradini delle chiese e i muretti dei parchi. Si creavano forme di convivialità che duravano il tempo di una partitella, di una bevuta, di un giro di carte. E che non costavano nulla.
Si diventava amici in cinque minuti e per costruire relazioni bastava un tango o un supertele. La saracinesca di un garage si trasformava in una porta che valeva quanto San Siro o l'Olimpico. La noia e la solitudine erano mali sconosciuti, echi lontani di grandi metropoli dove per qualche strana ragione migliaia di esseri umani avevano deciso di andare a segregarsi.
Perché nei paesi di un tempo non ci si annoiava mai. Non in provincia, non in quei piccoli centri pieni di bimbetti con le ginocchia sbucciate. Ricordate quando eravamo piccoli? Le croste di sangue alle ginocchia duravano anche tre o quattro anni di seguito. Pallonate, impennate con la bici, frenate sul ghiaino. Lasciavi il pallone solo quando cominciavi a innamorarti della figlia dell'elettricista. Anzi, neanche allora. Perché per farla innamorare dovevi riuscire a farti vedere mentre palleggiavi fino a cento. Poi d'incanto le ginocchia guarivano e ti rovinavi il cuore.
Oggi no, anche nei piccoli borghi rurali, non si sa perché, stare fuori è pericoloso. Strani pericoli che si materializzano soprattutto nella mente di noi adulti vietano ai nostri figli di rovinarsi le ginocchia.
Ossessioni securitarie che alimentano i divieti più bizzarri. Vietate le panchine. Vietate gli scalini. Vietati i birrini. Ovvero, stai a casa, cercati amici virtuali, usa la PlayStation. Anche le partite, da grande, impara a guardarle in tv. Paghi qualcosa e c'è il replay. Non si sa mai cosa può succedere in curva. Di questi tempi poi. Ossessioni che cambiano il modo di fruire un evento. Che costringono a diventare utenti passivi di uno spettacolo. Il bambino che batte il pallone contro un muro rifiuta di essere un utente. Sta dicendo: io sono parte del gioco. Sta rivendicando una pratica tipica della cultura popolare, dall'Italia all'Inghilterra: reclama la strada. Take the street, reclaim the streets.
Il divieto di calcio salva l'intonaco dei muri delle piazze toscane. Protegge le ginocchia, i vetri delle finestre e i gerani sui balconi ma rovina la gioia di vivere in provincia. Crea un silenzio letale nei vicoletti. Rende più vuota anche la giornata della signora che ci tirava indietro il pallone perché le entrava nel cortile. Certo, ci diceva "ve lo buco". Anche il signore di ottant'anni urlava "domani c'ho da alzarmi presto per andà al lavoro, portate rispetto". La signora però il pallone non ce lo bucava mai e il vecchietto non andava a lavoro da anni perché era in pensione. Ma ognuno recitava la sua scena madre in quel grande gioco delle parti, in quel teatro che era la vita di strada dei paesi e che oggi sta definitivamente scomparendo.
Lasciandoci tutti davanti al televisore, tristi, solitari e finali.
27 Responses to " Divieto di calcio ai maggiori di anni undici "
Trackbacks & Pingbacks: